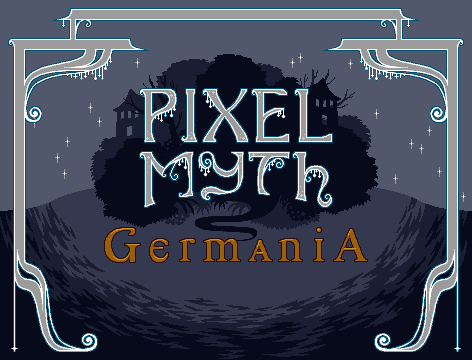 Pixel Myth: Germania
A downloadable asset pack for Windows, macOS, Linux, and Android
This is the first in an intended series of painstakingly detailed pixel graphic packs. Build a classic fairy tale setting inspired by Germanic locations. Although originally optimized for use in RPG Maker VX Ace, this set is suitable for use in many engines and many game genres.
Included
Tile sheets with elements to create exterior, interior and dungeon locations.
Decorative title screen surround.
Custom window skin in both an RPG Maker VX Ace and XP setup.
Extra, non-tile based images for people not afraid to do a little editing, like slanted walls, bay windows, and a large water animation.
Animated event pieces including doors, vehicles, chests, and more.
Tile arrangements optimized for use in RPG Maker VX Ace with extras for use in XP or other tile based engines.
Exclusive Pixel Font.
A BGM track by Jeremiah George.
Purchase
In order to download this asset pack you must purchase it at or above the minimum price of $29.99 USD. You will get access to the following files:
Comments
Log in with your itch.io account to leave a comment.
Pretty much use in your games, edit all you want, don't share the edits or my art with others.
Been a fan of yours for awhile, silently though. I love the lpc stuff you've done on opengameart, and I have used it a few times to make and print out dnd maps (I'm an immense geek... i use pixel art for all of the maps my buddies and I use.... We have pixelated tokens too...) I've got a little index card with links to your assets so I can be like "bros i didnt make this, i just put it together in tiled." when they alll lose their minds over stuff I use of yours.
This is simply beautiful. :) Wish I wasn't broke, because all the enjoyment you have given to my gaming table deserves a tip.
Hi, I've purchased and used this tileset in RPGmaker and have loved it. I have now moved on to developing in Unity and want to continue using this tileset. Can I purchase a licence to use it in unity? Thanks!
If you purchased it from here then you have licence to use it in Unity.
It shouldn't be missing anything, but this is the second comment I've gotten about that in a short period of time. I'll redo the zip file and upload it again just in case, but it may not be right away. I have a few files I've been meaning to add in but can't without talking to someone about it first. I have a hotmail email, drakecastle, you can contact me there.
Sorry, I don't use Gmail for business. Is there a problem with Hotmail? I can get on another service temporarily so we can talk if you need me to.
BTW, if this is about a possible commission or offer to join a project, the answer will be no. I don't do commissions anymore.
I haven't quit, but I haven't been able to work on things as much as I like so progress is frustratingly slow. As soon as I have more I'll be releasing it.
Hello, I find your really magnificent resources! :D
Thus a few days ago I bought the pack, and there the disappointment ...
Strangely I have no all that we see on screens, set of incomplete tiles... Is it normal?: (
How could I show you my pack to verify the contents?
Thank you in advance for your answer.
There has been some confusion before about one of the screenshots, which doesn't use the artwork as tiles. Specifically people usually are wondering where the gabled windows are. Those were not included as tiles, but with some minor editing you can get the same look. The parts to put those together should be in the same folder as the angled walls, if not please let me know and I'll re-upload the zip.
Dear lord, this pack is amazing. Great work! A note to shoppers, there's quite a bit more in the bundle than what's shown in the screenshots. Take care
I really like your artwork. Do you have a website or anything that shows more of your work? I may be looking for someone to partner with on a game. Not sure if that would interest you or not? You can find some of my work here or on my website, http://www.posemotion.com .
Ah, I keep meaning to make a webpage, but I've never managed to finish one and put it online. Following me on here is probably the best way for now.
Sorry, i don't do commissions anymore. Good luck with your game.
I was going to offer a percentage (40%) of sales. As long as the game keeps selling, you keep making money. Either way, if not interested, best of luck. ;)
I never go for those types of offers. Don't know of any professional artist who does, actually. It's nothing personal, it's just that most games are abandoned before publishing, and of the ones that get made the majority sell very poorly. It's a bad investment, and art is difficult enough to make a living off of without that kind of risk. You may be able to find an inexperienced artist who's willing to do that sort of split. You'll need to make a really great pitch for the game though, something that makes an artist want to claim the project as their own. Since the money offered is the equivalent of a lottery ticket you need to offer something else to get people to spend their time and effort on you.
I understand what you are saying. I'm actually a capable 2D and 3D artist. Plus animation too. Just wanted someone to work with so I could focus on code and the music. I've been around a long time and have completed many projects. Anyways... Maybe I'll just do this myself. Thanks for the response. ;)
Yeah, I can tell from your links that you know your stuff. I think finding an art partner could be a good idea. Maybe you could try recruiting in a game creation forum instead, you'll be a lot more likely to find what you need.
Already bought it with VX, loved your tileset, and I want moarrrr!
Thank you! I've got another set in the works, though the next set I release will be something different.